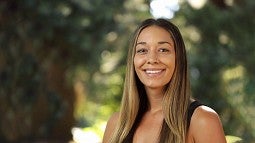 Kelly Mason
Hey everyone, my name is Kelly Mason and I am one of the new PathwayOregon advisors! This is so exciting because I, too, was a Pathway student and I am eager to be a resource for all of you throughout your academic career at UO!
What do you like helping students with?
I am passionate about making higher ed accessible to ALL, and I love helping students navigate the study abroad process and encouraging them to step outside of their comfort zones.
What's your advice for students?
If I had to give one piece of advice, it would be to take advantage of all of the resources and services available to help you be successful, you are not alone and there are so many amazing folks who want to help you thrive!