PathwayOregon ensures that academically qualified, federal Pell Grant–eligible Oregonians will have their tuition and fees paid through a combination of federal, state, and university funds.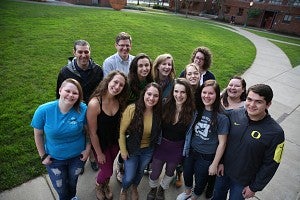 As a PathwayOregon student, you will also receive comprehensive academic and personal support:
Academic advisors dedicated to your success.

Workshops designed to help you pursue your academic goals and explore exciting opportunities, including study abroad.

Learning support, including free tutoring.

Opportunities to connect with your Pathway Oregon peers.
Selection Criteria
Oregon residency

Graduation from an Oregon high school in the last two years

Admission as a first-time freshmen

A minimum 3.40 cumulative high school grade point average on a 4.00 scale

Eligible for the Federal Pell Grant
Students who earn less than a 3.40 high school GPA but meet all other program eligibility criteria will be considered for the program on a space and funding available basis.
How to Apply
Submit the University of Oregon admission application postmarked by January 15. 

Submit the Free Application for Federal Student Aid (FAFSA) to the federal processor by February 15. List the UO as one of your school choices (Federal School Code 003223).
Learn more about the PathwayOregon team of support and find answers to frequently asked questions.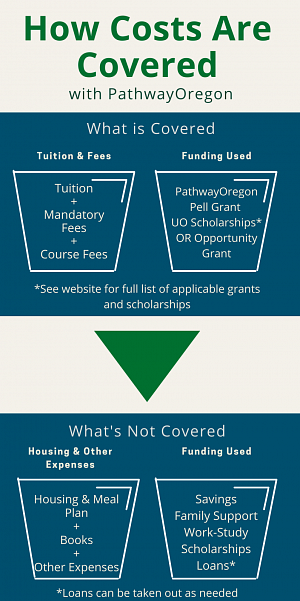 How Tuition and Fees are Covered
The UO promises to cover tuition and fees for all PathwayOregon recipients. These costs are covered through a combination of federal grants, state grants, and university scholarships and you will not have to pay back these grants and scholarships. How it works:
First we build your financial aid package with any federal and state grants, like the Federal Pell Grant and the Oregon Opportunity Grant. 


After these grants are applied, your PathwayOregon financial aid package is completed with UO scholarship funds to ensure your tuition and fees expenses are covered.


Housing and other educational costs are NOT covered by PathwayOregon. Outside scholarships, work-study, or loans will be needed to cover other expenses such as room and board, books, and supplies.
Understanding Your Award
You can better understand your award by going through these three steps:
1) Review your Financial Aid Offer on DuckWeb
2) Identify Grants and Scholarships
Identify the grants and scholarships that will be used to pay your tuition and fees. These make up the PathwayOregon offer:
Federal and State Grants:

Federal Pell Grant
Federal SEOG
Oregon Opportunity Grant

UO Grants:

PathwayOregon
UO Tuition Waiver

UO Scholarships:

Summit
Apex
Presidential
Diversity Excellence
Staton
Logan
General UO Scholarship
3) Identify Remaining Resources
Identify remaining resources that can be used to pay for housing, books, and other expenses. Many students rely on outside scholarships, work-study, and loans to cover these costs.
Federal Loans:Loans provide funding that you have to pay back after graduation.

Federal Direct Subsidized
Federal Direct Unsubsidized
Federal Direct Parent PLUS

Other Scholarships:Scholarships offered by UO academic departments and off-campus providers can generally be used to cover these expenses.
Federal Work Study:These funds are only available to students who are hired for a work-study job.
Complete terms and conditions can be found here.
Financial Aid Timeline
Find Additional Funding
Although PathwayOregon covers tuition and fees only, UO also awards a number of other scholarships to qualifying students. Find out more about these funding opportunities by visiting these sites:
Also, consider applying for other scholarships through resources like state government agencies, online search engines, and more.
How Do I Keep The Award?
PathwayOregon awards are renewed annually for up to 12 terms of undergraduate study over five years (excluding summer terms). For renewal, recipients must
Remain eligible for the Federal Pell Grant 
Complete the Free Application for Federal Student Aid (FAFSA) each year by March 1 (Recommended by January 31)
Maintain full-time student status by enrolling in 12 or more credits each term
In some instances it may be appropriate to drop a course during the term.  If in doing so your credit total decreases below 12 credits, your eligibility for aid may be affected.  Before reducing credits, meet with a PathwayOregon advisor about potential financial aid implications. 
Financial Aid Eligibility
To be eligible for financial aid, including PathwayOregon, you must make satisfactory academic progress (SAP) toward your degree at the UO. Satisfactory academic progress is reviewed annually at the end of spring term and is met by:
Maintaining a minimum 2.0 cumulative grade point average (GPA) for undergraduate students 
Maintaining an aggregate 67 percent pace of completion
Visit Financial Aid & Scholarships to learn more about satisfactory academic progress.